Michael Kiedaisch & Florian Döling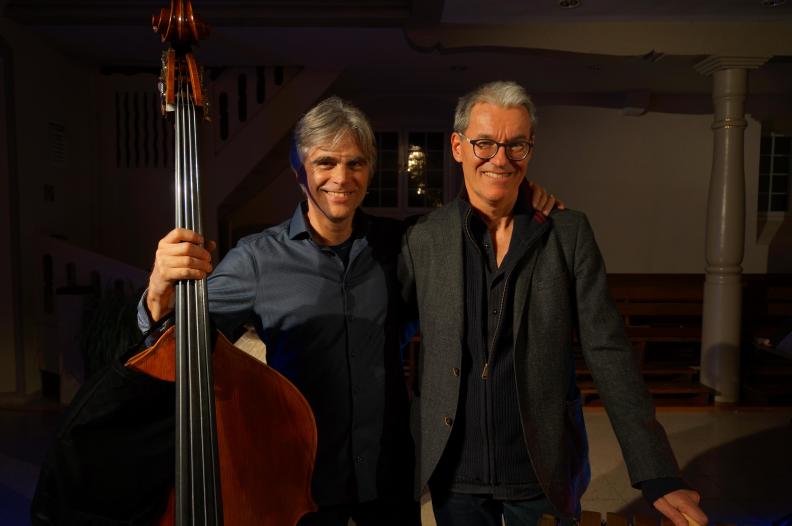 New Horizons
Experience the birth of a new duo live on CD: this promised the recording of the first joint performance by vibraphone player Michael Kiedaisch and double bass player Florian Döling as part of the Gestorfer Sommermusik on July 1, 2018 at the local Romanesque church. This rarely heard instrumentation draws its special charm from the combination of the bright, percussive, harmonious sound of the vibraphone with the dark, warm sound of the double bass.
The duo's programme offers exclusively compositions of the two musicians, especially arranged for this duo. Their focus is on melodious and harmonically rich ballads, but also relaxed groovy, in the next moment exciting rhythmic songs that sometimes swing into hypnotically repetitive, always open to new, surprising turns and directions in the common improvisations.

In the liner notes of the CD, producer Florian Döling defines the programmatic idea of the duo: "new horizons - a synonym for "going on a journey", further development, discovering new musical ways and combinations. Or in short: an eternal driving force for every alert and curious musician. From my point of view, the wheel doesn't always have to be reinvented, it's definitely worth falling back on already existing compositions and rearranging and interpreting them in a new line-up. New horizons also implements new compositions written especially for this line-up. And so it should be exciting how our program will develop in the future..."
4 new Live-Videos
At our CD release concert on Sept. 29, 2019 we recorded live three brand new songs and one older song at the ev. Mountain Church in Freiburg-Opfingen. All 4 Songs are new in the program and first time published. Plus a demo-mix of several songs from this concert (9,5 min.) You can watch them online here
CD review
Review of the Badische Zeitung, 25 Sept. 2019 (summary): "Two masters of their instruments. The dazzling character of the vibraphone dialogues perfectly here with the dark timbre of the double bass. Pearling, floating, even ethereal sounds interact with earthen sounds. In their compositions and improvisations,the two virtuosos prefer the balladic play, the calm dialogue, but there are also dynamic moments, with rapid movement and the flight of notes." Author: Udo Andris
Complete review (German): Badische Zeitung vom 25. September 2019