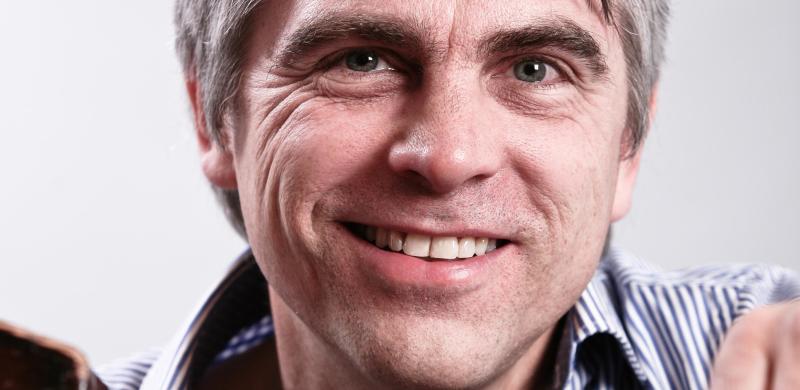 The Composer
The composer
Florian Döling made his first serious attempts at composition at the end of the 80s, during his classical double bass studies at the Musikhochschule des Saarlandes. Inspired by the visit of several jazz workshops, where also composition and arrangement lessons were on the agenda, the list of his (jazz) songs in the following years grew longer.
In addition to more classical, instrumental jazz songs, he also composed jazz suites, such as the four-movement "Alaska Suite", recorded by his piano quartet Quiet Now on the CD "Inside The Waltz" and the concert piece "Body", written for the 12th Heading contemporary Freiburg improvisation ensemble Up-Art IG, recorded on the CD "Juxtapositions".
With the founding of his sextet, later reduced to a quartet playing only the leader's compositions, he faced for the first time the great challenge of writing not only the music but also the English lyrics. The CDs "Morning Sun" and "Beam Me Up" document this creative phase to the best.
In 1999 he wrote his first musical "Miausical", a children's musical for vocal soloists, rock band, children's choir and string orchestra. The premiere dates to the year 1999. It was followed by two more, revised productions in the Stuttgart area. For the first time Florian Döling ventured with the "Miausical" to a libretto, which, however, was still strongly based on the book template "Geschichten von der Maus für die Katz" of the Hamburg author Ursel Scheffler. The "Miausical" also marks his entry into the German lyrics.
Confirmed by the great success, he took over another composition commission from the parish of Bennigsen. The result was the musical "Mysterious Church Walls" for vocal soloists, mixed church choir, children's choir and band, again with German lyrics and a libretto based on historical traditions. The premiere took place in 2007.
Without any substantive specification he wrote the musical "Magic Shoes" with the cast of several vocal soloists, a soloist backing choir, big band with percussion group, orchestra and several dance ensembles. For "Magic Shoes" he wrote not only the music and the predominantly German lyrics, but also the arrangements and the orchestration, as well as the libretto. The premiere took place in 2009.
For the bands, ensembles and dance classes of the music school Binningen-Bottmingen (BiBo) and the neighboring music school Leimental he got again the chance to compose a new musical. The result was "Keep Going" (german program booklet). In addition to the music, the predominantly German lyrics and the arrangements and the orchestration Florian Döling wrote again the libretto. "Keep Going" premiered in 2012 in Binningen.