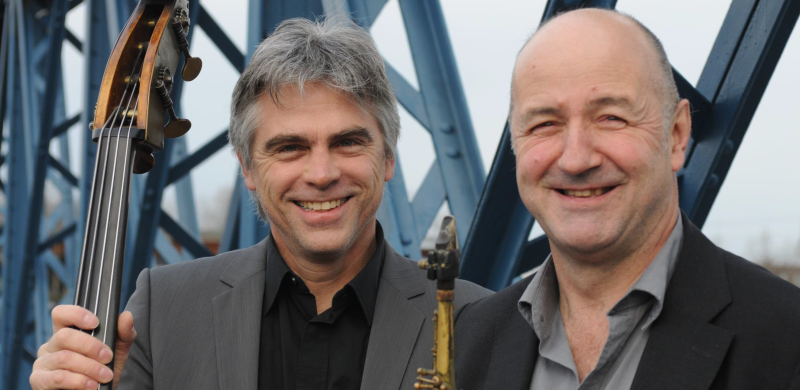 Duo Mike Schweizer & Florian Döling
Conversation In Blue
"Conversation In Blue '" stands for the blue hour, the time between day and night, between guards and dreams. Own compositions and standards from the Great American Songbook, free improvisations and themes from the music of the Balkans are on the program. The duo plays consistently in impressive manner, courageously, experimenting, exhausting all leeway and sound variations, of stunning dynamics and vital, and sometimes of ecstatic cut.
CD-Press
Jazz musicians Mike Schweizer and Florian Döling have known each other for two decades. Now the duo has released the album "Conversation in Blue". The interactions that emerge between the two are intimate, focused, unfussy. On eight pieces, recorded at a concert as part of the series "Gestorfer Sommermusik", the musicians from Freiburg meet at eye level. While Schweizers saxophone strives at times to expressive heights, Döling's bass gives the necessary grip. For example, the tenor sax jubilates and squeals in the Beatles classic "Ticket To Ride", while the Bulgarian folk song "Gankino Horo" sings the soprano saxophone in the odd, invigorating meter. The bass follows the ascending and descending scales exactly. In the concluding "I Mean You" by Monk, which was added as a terrific soundcheck (!), the two musicians pass sovereign changing harmonies. Five more pieces, one by Schweizer, four by Döling, shape the sound of the duo between swinging impetus and blues-like form. The blue album cover emphasizes the calm mood of the recording. In eye contact and focused on communication are the two figures meeting each other, as befits a duo. Badische Zeitung 19.10.2014 Author Reiner Kobe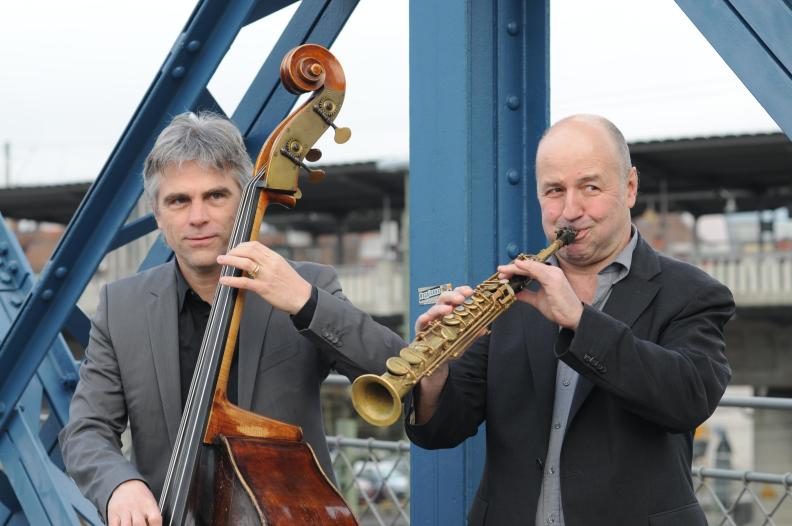 Live-Presse
New Deister newspaper from 19.07.2011: "This duo only mainstreaming in some easy excursions, otherwise consistently courageously experimenting in impressive manner, exhausting all leeway and sound variations, of stunning dynamics and vital, yes sometimes of ecstatic cut."